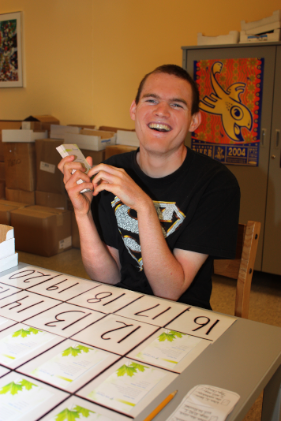 "Hi, I'm Alex." This is a common introduction you can expect from Alex on any given day. He is a very sociable young man now that he is able to communicate his emotions in a more productive manner. Alex used to struggle with every endeavor, according to his parents Christina and Bill. When he lived at home he would refuse to go to his school - sometimes several days in a row. It was almost impossible for him to go out into the community due to his behaviors. He didn't like any changes to his schedule and would often perseverate on why he had to endure any changes at all. Alex's parents spent most of their time just trying to make sure he was happy, but they were exhausted and overwhelmed with stress. "We needed a safe place for Alex and found Heartspring," said Christina and Bill.
Since arriving at the Heartspring School in July 2009, Alex has been working very hard to learn how to communicate effectively and becoming more independent. He is working on expressing his emotions verbally and appropriately. "You can see Alex's whole range of emotions from happy to sad to frustrated to content in a more appropriate manner now," said Deb Dunbar, Alex's special education teacher. Alex is learning to make better choices in his classroom, home and in the community. He and his classroom peers work together on practicing their social skills and talk about their home life and what is planned for the day.
Alex is learning to ride the public transportation system with another student and his teacher. Deb says they take the bus to downtown Wichita to purchase new bus passes. They have also taken the bus to the mall to go shopping. Alex enjoys going to his favorite music store and listening to his favorite band, Metallica. Deb says the students enjoy this new independence and do very well.
Alex enjoys working in the Heartspring Workshop Training Program every day where he is learning very valuable lessons. He does independent work for several Wichita community businesses, but also will help with jobs that require co-workers. "He does a great job," Said Cheryl O'Brien, workshop coordinator. "Alex is a very hard worker and very accurate at his jobs. He is using better eye contact when communicating with peers and staff and enjoys sharing with us the knock-knock joke at the end of the work day."
Alex is working on his reading and comprehension skills in his classroom. "Alex reads from a print out of News2u for current events and the daily knock-knock joke," said Julie Hughes, lead classroom paraeducator. "He enjoys sharing with all his peers and classroom staff." He is also learning how to count money and balance a debit card register. He loves to sing and share his favorite songs on his iPod with peers. He also participates in the music class and choir at Heartspring. His favorite song to sing in choir is "The World is a Rainbow."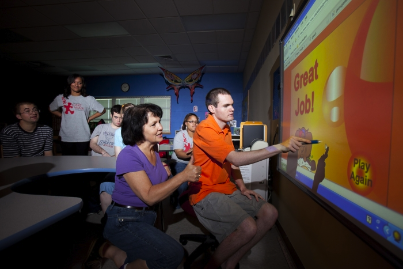 According to Travis Grover, adapted physical education teacher, Alex was extremely timid and reserved to participate in new or different activities when he first came to Heartspring. "He loved his preferred activities of bicycle riding and swimming. Now he will pretty much participate in any activity asked of him including shuffleboard, parachute activities, baseball and roller-skating," he said. "Alex is also working on utilizing some community resources such as the local YMCA, bicycle paths, roller-skating rinks and bowling alleys," said Travis. Alex's schedule for his community outings can change but with his new verbal communication skills he is better equipped to handle these changes.
Alex's most recent visit home for the holidays proved to be a wonderful visit for his family. He helped his father with setting up Christmas decorations, going to Home Depot to get a new lamp, and participating in several activities away from home. "Because of all the rain during his vacation, several activities had to be changed or cancelled," said his parents. Alex took this all in stride. A trip to Knotts Berry Farm was planned for one day and on-line information said the park was open. However, after a 40-minute drive, they arrived to find it closed. "It did not bother him," said Alex's parents. "Alex came home and he just went off to listen to some of his favorite songs."
For many parents, having to place their child in a residential program is a heartbreaking decision, but one they admit is best for their child and their family. Christina and Bill are grateful for the opportunities granted to Alex through Heartspring and the successes he has achieved because of his time in Wichita.
"Today, Alex has a chance for a happy life. Without Heartspring we doubted that would have been possible. The staff with their knowledge and work has achieved what no one else has been able to do in ? years. He is surrounded by people who like him and care about him and believe in him. His problems are understood and addressed in a calm assured manner. No matter what question we have the response of Heartspring staff has always shown that our concerns have already been considered and addressed.
We will never forget the comment we got from Heartspring staff after we had submitted all the paperwork: 'Yes, we can help him.' We were afraid to believe at first. Now we know they were right.
For the future (now that we believe he does have a future): When Alex leaves Heartspring we don't consider that his learning days are over. Our plan is to have a team in place to continue the work of Heartspring staff so Alex can continue to learn and adjust to life to give him as independent a life as possible, a life that includes work; activities in the community and with friends and family; and activities he enjoys by himself." - Bill and Christina, Alex's parents