All throughout his physical therapy session, Henry had a big smile on his face. He was working on his strength by throwing sticky balls at a mirror. With every throw, his expression lit up and a giggle escaped his mouth. It wasn't just him smiling; you could feel the excitement throughout the room. His therapist, Cheryl, cheered him on, giving him the encouragement to push forward.
"I really feel like the therapists really care," Natalie, Henry's mom, said. "This is like a little person they're invested in. I feel like when you have that, when they care more on their end, then it shows in their work and their efforts towards him."
When he was very young, Henry was diagnosed with Potocki-Lupski Syndrome (PTLS). It's a chromosomal disorder, which results in failure to meet milestones in infancy. Henry also has Charcot Marie Tooth and is approximately one of 23 people in the world to have both diagnoses. PTLS alone can create a number of hurdles for children and their families, including low muscle tone, feeding issues and speech delays. One of the best chances for an independent life is early intervention.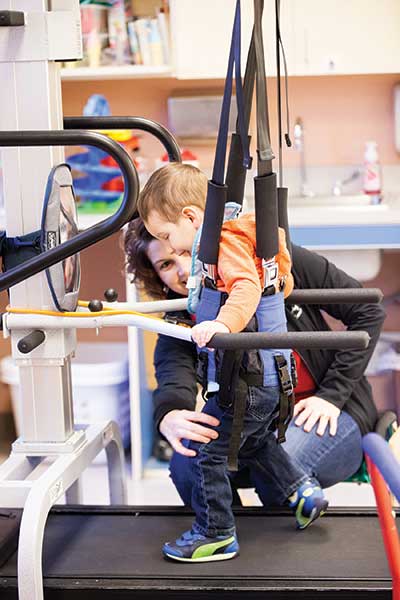 In physical therapy, he's gained more strength and independence. When he first came to Heartspring, he wasn't able to support himself on his knees or pull himself to stand. Through consistent therapies and exercises, including building strength in aquatic therapy, Henry began to make major gains.
"I think having the pool really helped give him that extra strength he needed," Natalie said. "Almost everything he does on land has been preceded by him doing it in the pool."
One of Natalie's favorite memories was when Henry was sitting by the bathtub. Henry enjoys water, and he wanted to be able to turn on the faucet so he used the tub to pull himself to stand independently for the first time. This started a wave of excitement throughout the house as Natalie called his father into the room and got out her phone to capture the moment.
With preschool just around the corner, Natalie turned to Cheryl to help provide guidance as to how Henry would get around his new school. Given all the options, they decided to try him with a walker. Henry quickly adapted to this new method and began walking in his walker independently. It wasn't much longer until he took his first steps without any support.
"I felt so happy," Natalie said. "I was in tears, of course. It was elating. It made me feel like shouting 'my son is walking, my son is walking!"
Henry is also making gains in speech, which will be another major tool for him when he goes to school. He can now answer yes and no questions and is learning new signs and how to make more sounds.
Henry's bright personality, glowing smile and supportive family will allow him to overcome great feats in his life journey. In the short amount of time he has been at Heartspring, Henry has overcome so many barriers to increase his independence, and he is a poster child for possibility.