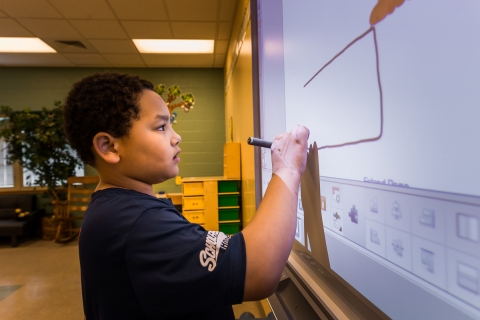 When Jaxson arrived at Heartspring, there were many behaviors that got in his way of learning. He struggled with elopement and lacked the ability to sit still or pay attention for any amount of time. Additionally, he had difficulties with aggression and acting inappropriately.
Jaxson has made tremendous strides in behavior, academics and community participation during his time at Heartspring. His staff has helped him learn essential techniques to manage his behavior. He initiates breaks and continues to improve his coping skills. Jaxson's frequency of elopement has decreased by 90%, and he is now able to sit and focus on his daily activities, which is essential to increasing his ability to learn and furthering his independence.
Jaxson is excelling in his lessons, which include direct instruction, large-group instruction, small-group instruction and computer-based learning. His independent area includes a variety of pre-vocational tasks like packaging, sorting, assembling, stuffing envelopes, recycling and shredding.
Jaxson has made great improvement in his ability to interact within the community. He now participates in community-based instructional activities, including swimming at the YMCA, purchasing supplies at area retail stores, recycling cans, bowling and selecting and listening to stories at the local library.