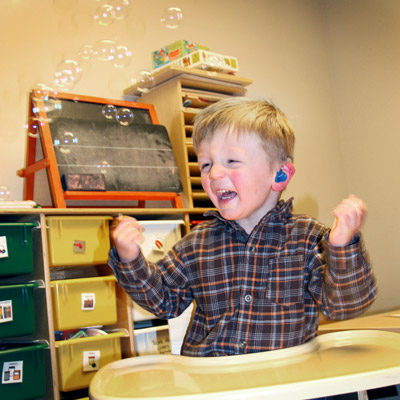 "One...two...three." Judah smiles as he carefully counts his steps through his physical therapy task. He giggles incessantly as he reaches the end, where he drops a plastic ball into a slot and watches it swirl down a slide as his reward. After watching the ease it took for him to take those steps, it's hard to believe that six months ago, he couldn't walk on his own.
"A parent always remembers their child's first steps, and we will never forget Judah's. We were so proud of him, but no one was as proud as he was of himself," Katherine, Judah's mom, said.
These defining moments haven't always come easy. At birth, Judah was diagnosed with severe low muscle tone and mild to moderate hearing loss. His parents quickly faced the reality that he would not meet the milestones many infants and toddlers do. They visited with specialists and physicians to find what services would best suit his needs. Then, shortly after turning three years old, Judah was diagnosed with autism.
That's when Heartspring came into the picture. It was clear that Judah required the structured and consistent services that Heartspring Pediatric Services could offer. He now attends physical, occupational and speech therapies regularly, as well as receives Applied Behavior Analysis (ABA).
Since beginning therapy at Heartspring, Judah has learned to communicate and verbalize his needs, a major stepping stone for his family.
"Judah has matured and gained positive skills necessary to improve his quality of life," Katherine said. "He continues to learn and experience new things daily. He is happy, makes eye contact and is more comfortable around larger groups of people."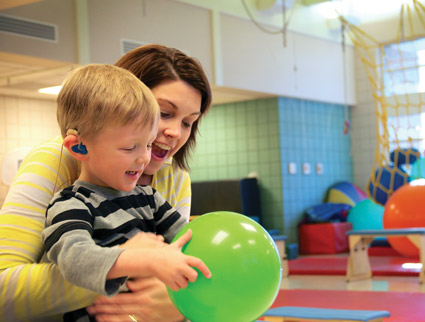 One of the most significant changes his family has experienced is their ability to venture out into the community more frequently.
"Before [Heartspring], we wouldn't do the things that other families do so often, such as going out to eat, for fear that Judah would have a 'meltdown' due to over stimulation, or not being able to tell us what he wanted," Katherine said.
Unable to communicate his needs, Judah's frustration would often hit a boiling point.
"Don't get me wrong, a lot of kids without special needs have meltdowns and throw temper tantrums in public..." Katherine said, "Society may see those things as bad parenting [instead of understanding the circumstances]; that is why it is so important to educate and raise awareness. Because of Judah's major accomplishments, we are able to do more things as a family knowing that Judah will be able to participate and enjoy it."
Judah's success has also flourished at school. Judah attended an early childhood class three weeks before the school year ended. His parents met with teachers to set up an Individualized Education Program (IEP) to plan his goals for the summer.
Three months later, the IEP needed to be updated— Judah was already exceeding the goals they had set.
"Judah's teachers and therapists were so pleased to see Judah walking and talking and communicating," said Katherine, "It is exciting and meaningful to have others celebrate Judah's accomplishments with our family on a daily basis."
As Judah continues his journey, one thing is for sure—he has his family cheering him on.
"As parents, we all want the best for our children and that doesn't change when you have a child with autism. We want Judah to have the best quality of life possible and Heartspring has helped us provide that. Together with Heartspring, we will continue to push Judah to excel and reach high expectations."