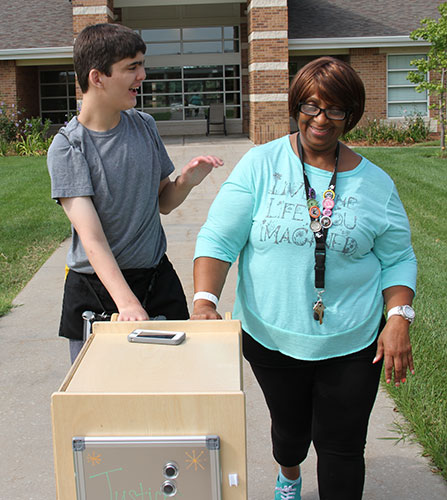 When you hear the word communication, you usually think of two people, speaking to each other in the conventional way. However, there are quite a few forms of communication—written communication, body language or sign language, just to name a few. At Heartspring, one of our most communicative students mainly uses his Augmentative and Alternative Communication device and his facial expressions to connect with others.
Twice a week, Justice and his paraeducator, Gloria, roll a cart full of chips, candy and snacks through our building. When they pull up to a cubicle or customer, Justice stops the cart and uses his iPad to interact with his potential customer. With his bright smile and warm personality it's almost impossible to turn the 14-year-old down. And if you do, he asks you if you're really sure, like any good salesman. Our entire staff knows who Justice is and usually talks about him with warmth and a smile.
Just a few months ago, Justice wasn't quite as open with people he didn't know. Gloria and the rest of his teaching staff tried to think of different ways to help him gain confidence and thought utilizing the food cart would be a good way to build those social skills.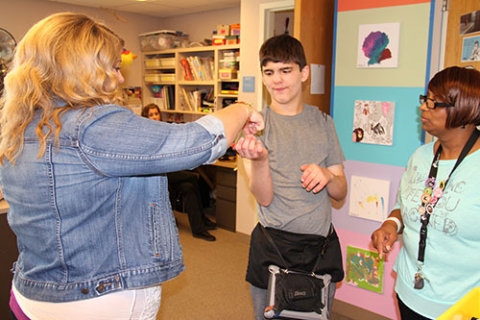 The first day he made his rounds, he relied on Gloria for introductions and talking to the staff, but by the end of the week he found his rhythm and confidence. He's even asked his teachers to add extra commands to his iPad to improve his ability to sell. Now, he can talk about money and getting cash back through the AAC device. This opportunity has been invaluable for not only Justice, but also for his loyal customers throughout the organization.
"The snack cart program has helped the Heartspring team get to know who Justice is, really know him like those of us who work with him," Gloria said. "Everyone gets to share and celebrate in his progress and they truly feel Justice's heart."
And it's a big heart. On his snack tour, Justice brightens the day of his customers with his charm. All the money he raises goes back to funding the food in the snack cart program. For Justice, the transferrable skill is being able to meet and connect with new people and explore new ways to practice his communication goals.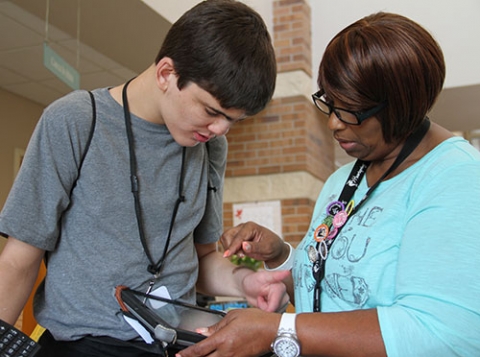 Justice may not always be able to communicate in the conventional way, but his voice is now heard by many more and it's a small step in connecting to the world around him. It's just one of the many ways our school gives students the tools to grow and be heard on a path towards greater independence.