A mother's life is marked by milestones—her baby's first time sitting up, the first time her child walks, the first time he says 'mama.' Each milestone is met with excitement and a glimpse of a bright future, but when a child is not meeting those important life events, it can be scary.
"They just never came. We got to six months and we thought pretty soon he's going to be sitting up and he didn't."
Erin noticed her son, Levi, was missing the typical milestones. At nine months old, Levi was babbling and he couldn't sit up on his own or feed himself. She could tell her son was trying to do all the things other kids his age could do, but he just couldn't for some reason. She started to look for answers. Levi's doctor told her he had hydrocephalus or a build up of fluid in the ventricles within the brain and referred her to Heartspring for therapy. Erin didn't waste any time. She wanted her son to get back on track to meet his milestones.
When he first got to Heartspring, Levi needed speech, occupational and physical therapy. With every session, he got one step closer to meeting his milestones. After a lifetime of struggle for Levi, with therapy, it took him less than two months to meet his first accomplishment. He finally sat up.
With that new glimpse of excitement and hope, Levi continued his therapy. His parents drove him more than 40 minutes one-way to Heartspring because they knew he would continue to improve. While Levi made strides in physical therapy, the toddler also started to meet his goals in speech therapy. In the beginning, he had trouble even imitating sounds, so mastering that was step one. They moved onto words and, eventually, he made the words his own. In occupational therapy, he went from not being able to shake a toy to stacking blocks.
He's already been discharged from his speech and occupational therapy, but he's still working on his physical therapy goals. For Levi, one of the best ways to make gains was to help him build confidence. Levi is very unsure of new things and helping him get over his apprehension was key in his improvement. To do this, Physical Therapist Valerie Wondra tries to make his therapy more like play.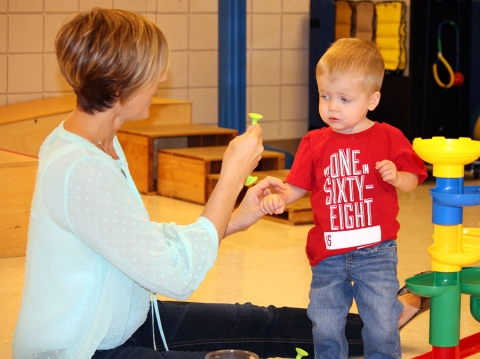 "Making it fun," Physical Therapist Valerie Wondra said. "Making it exciting. Making it a game and getting his mind off of what he's doing."
Levi has continued to overcome obstacles. He was at home with his family one weekend in early October. They were trying to coax Levi into walking and he finally reached that next milestone—Erin got to watch him walk on his own, without any help, for the very first time.
"It was exciting, but it was very overwhelming, Erin said. "He has tried so hard and he was so excited. It was just awesome to watch him try so hard and succeed."
Not only is he beginning to walk, he can call for his "mama' and tell you, without a doubt, what he wants or doesn't want to do. Levi still has work to do, but Erin is finally getting the chance to see her son do those things little boys should be doing. She gets to watch Levi accomplish those milestones he used to struggle to meet.
"When I take him to physical therapy, I cry, honestly," Erin said. "It's overwhelming how far he's come in such a short time and it's all because the therapists are amazing."