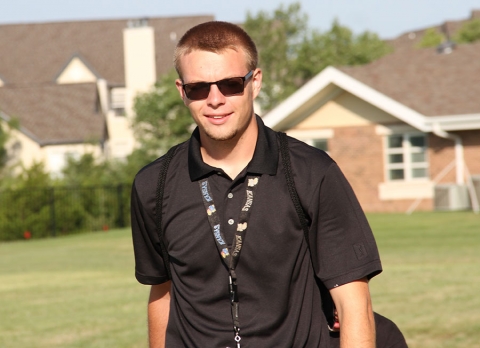 High school is a tough time for almost any teenager. When you are impacted by an autism spectrum disorder, it can be even more difficult.

When Thomas first got to Heartspring in 2009, he was going through a lot. He said his confidence was very low and his behaviors kept him from attending public school. He didn't complete his assigned work and usually refused to participate in group activities.

Heartspring helps students like Thomas build their confidence, over time, through a variety of different ways. Every student is different and is treated individually to help guide his or her unique path to greater independence. For Thomas, a key part in building his self-esteem was athletics.

Thomas said he wasn't a giant fan of sports before he came to school here, but that changed. He still remembers his first adapted physical education (APE) class. The class played baseball that day. The motivation the staff gave the students made an immediate impact on him. From there, Thomas excelled in his APE class. He began competing in local and state Special Olympics events. He was a renaissance man, participating in bowling, track and field, basketball, aquatics, golf, cross country skiing and snow shoeing.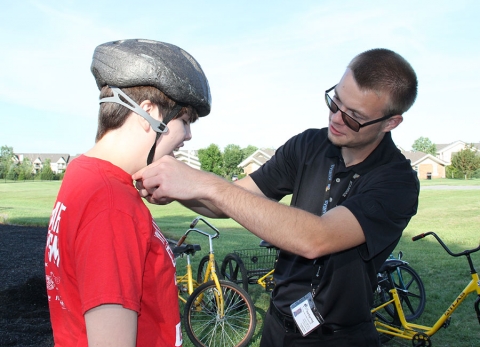 Thomas attributes Heartspring with making him a better person as a whole. Director of Educational Services Stephen Perry said Thomas worked hard to improve as a student in Heartspring's residential program.

"Thomas took the bull by the horns," Perry said. "Thomas wanted to get better and Thomas, I think, had a plan. He had a vision. There was that place where he knew he wanted to be and knew what he wanted to do and he developed the confidence and the skill set to do it."

All of this newfound confidence helped Thomas finish his time at Heartspring and transition back to his hometown, but he wasn't done with the school just yet. His improvement and love of athletics made an impact on his teachers. A big enough impact that APE teacher Travis Grover knew he wanted Thomas back as an employee before he even left. Travis went out of his way to create the position for Thomas and through some discussions with Perry; brought Thomas back home to Heartspring as an APE paraeducator after he graduated from high school.

The one thing that Travis wanted to make perfectly clear about his student turned coworker is that he deserved the position. "Thomas earned his right to be here. He's a valuable asset to Heartspring."

Just about two months into his new career, Thomas looks like a natural. He's very patient with the students. Before they go on their bike rides, he makes sure their helmets are snug and safe. When the students cross home plate, they get an encouraging high-five from their instructor.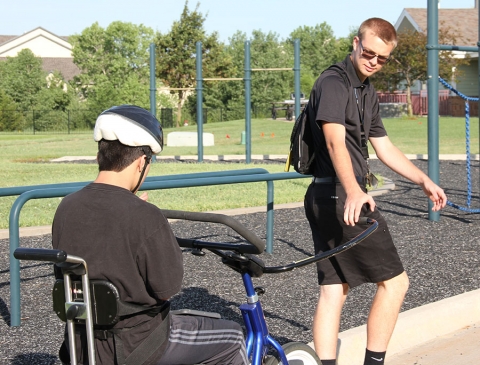 "It makes me feel great at the end of the day that I kind of get to help someone learn something different, try something new," Thomas said. "I'm always pumped about it. I never would have expected to be happy coming to a job, but it just makes me feel great to come here and say 'alright I'm ready to work with some kids, get some new goals fulfilled and get ready for a great day helping kids."

Thomas is familiar with what these kids are going through. He knows what behaviors to look for and what to expect from the students. So far, Thomas is making the most of his opportunity. Perry said he wishes he had 50 Thomas' working for him. He has fun with the job and the students, but he still takes the role seriously.

Every day Thomas goes into work knowing he has the chance to spread his love of athletics to other students. Giving them a new avenue to discover self-confidence within themselves, just as his discovery changed his own path in life.