1 MIN READ
Choosing Joy: Heartspring's Art Show at Envision Arts Gallery
Wichita art gallery displays different art by students including paint pouring, sculptures and collages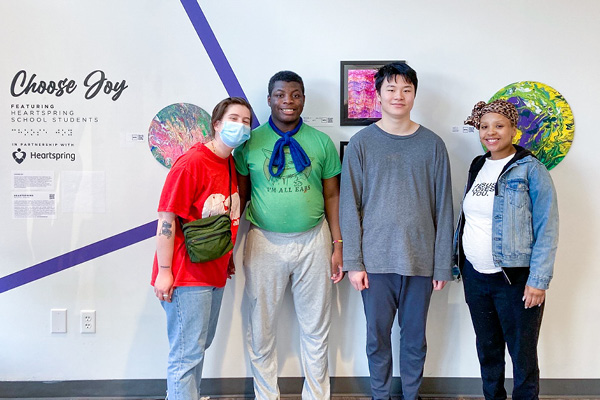 At Heartspring, we want to give our students the opportunity to experience new things and explore new passions. Our art program has been a key piece of this exploration—allowing students the opportunity to create masterpieces of their own, building their confidence and fine motor skills.
"Our kids can make some really unique, beautiful pieces," Julie Noller, Coordinator of Special Projects, said.
This month, our students also got to experience something many people never have. Their art was displayed in an exhibit at an art gallery. Julie is the lead for this project as well as the art program in general at Heartspring.
This rare opportunity was provided thanks to a partnership between Heartspring and the Envision Arts Gallery & Community Engagement Center. Students have been working on pieces over the past few months. From collages to paintings to sculptures—the students had many mediums to express themselves in.
All their hard work paid off this month when their art was displayed in Heartspring's "Choose Joy" exhibit at the Open House on April 7. People from all over were able to see the talent they possessed. Some of the students were even able to attend the open house and see their pieces on display. All in all, more than 240 people came by to check out the exhibit. That was the largest crowd the gallery has had since its grand opening including many Heartspring employees from all over the organization.
"I get emotional every time because, for me, with every single piece there is a story," Julie said. "I was there when the kids made it and I was there to see their reaction. It was fantastic to watch other people spend time looking at those. The greatest fun was when some of our students were there, and they would go and show their piece to people, and you could see the pride that they had in what they had made."
You still have a chance to check out the amazing artwork for yourself. The exhibit will be on display until April 28.