2 MIN READ
Heartspring staff build resilience and hope in the face of COVID-19
Despite the difficulties of the pandemic, employees remain strong, hopeful, and committed to the Heartspring mission.
By: Heartspring Marketing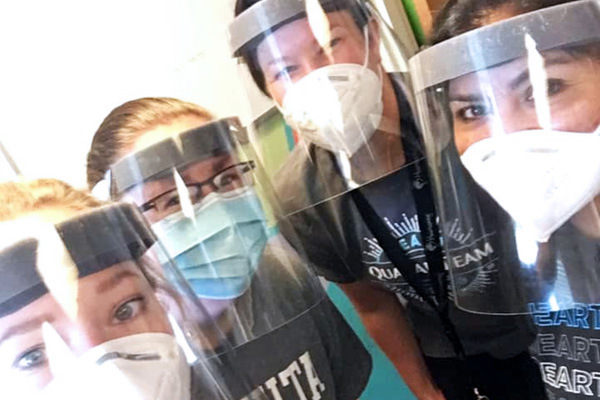 Determined to face the challenges of COVID-19, Heartspring staff find grit and solidarity with one another as they come together to help the campus remain virus-free.
Despite the difficulties with closures and staffing, employees' morale has remained high. During our last closure, staff picked up additional shifts, volunteered to deliver meals, helped Heartspring's medical team get employee testing done, and assisted with various tasks around the school.
"Our staff truly shine in their commitment to serving the Heartspring mission," says President and CEO Karina Forrest Perkins. "Our work culture, deeply rooted in the history of our organization, is based on solidarity, acts of kindness, and support for one another."
The organization points to its mission and almost nine-decade history to explain the unwavering commitment to the health and safety of the families they serve.
"When an organization has been around 86 years, grit and determination are in your DNA," affirms Senior Director of Marketing and Communications Rachel Mayberry. "We have been through challenging times before, but that is where innovation and tenacity are born."
Before the COVID-19 outbreak on the campus, staff followed strict health protocols at work including wearing masks, thorough sanitation, and daily screenings. Now school direct care staff are wearing personal protection equipment and outpatient services follow even stricter guidelines to mitigate a further spread of the virus.
"Even before COVID-19, we had strict cleaning protocols because we serve children and young adults who are susceptible to getting sick," says Forrest-Perkins. "We are continuing our sanitization efforts and exceeding the recommended guidelines for infection control as we continue to navigate this pandemic."
One such innovation is the purchase and arrival of the Zono disinfecting and sanitizing cabinet and the Victory Innovation electrostatic sprayer that sprays disinfectant with charged particles to effectively reach and wrap around all surfaces. With these new technologies, the organization is quickly disinfecting all environments and items after a potential exposure to an infectious disease.
"The investment in the disinfecting cabinet and electrostatic sprayer is an investment in our future," states Forrest-Perkins. "It is already creating healthier environments during the pandemic but it will also support the organization into the future as we confront seasonal viruses and illnesses."
As employees navigate the obstacles of COVID-19, they remain proactive, supportive, and adaptable – and their efforts are recognized by families and community members. In the past month, Heartspring has received an enormous amount of support, and several employees have received gifts and notes of appreciation for their commitment and hard work.
"Being new to Wichita, the outpouring from our families and the community has been incredibly heartwarming," Forrest-Perkins adds. "Thank you to everyone who has reached out with their support and prayers."