1 MIN READ
Heartspring Students Expressing Themselves Through Art
By: Heartspring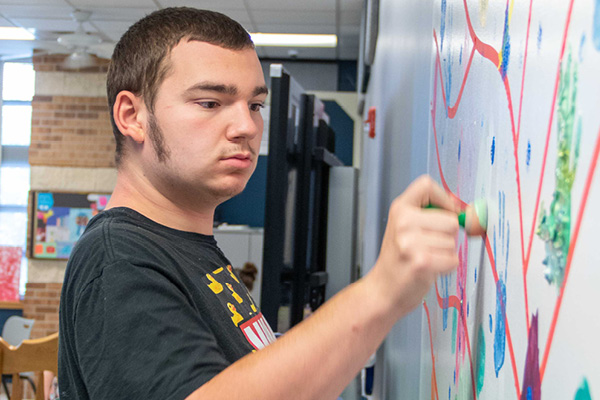 In the last few years, Heartspring staff have learned to become incredibly adaptable to make sure students still get a variety of experiences to learn and grow. Sometimes, what comes out of these changes are new ways of doing things that may be even better than before. During the Covid-19 pandemic, Heartspring's art program underwent some changes and created exciting new opportunities for students.
Julie Noller is the craft queen at Heartspring. And, by taking over the art department, she's put her enthusiasm and creativity into the program. During Covid-19, Julie created packets that could be sent to the classrooms and group homes so students had activities to participate in during the pandemic. As things opened back up, the packets continued and students were able to join Julie in the art room every other week. Throughout the process, Julie was able to see many positives in the projects.
"From my observation, the benefit for the kids is the sense of accomplishment they get from completing something," Julie said. "I often see them looking at their projects when they're done and really engaging with the completed project. They take a real sense of pride in what they've done."
Students can also use the art project as another form of communication.
"I can put all the colors out and all the shapes out and give the kids opportunities to choose how they want to express themselves with art," Julie said.
Students have also worked together on collaborative art. Collaborative art is when you have multiple people make something that contributes to a larger piece of art. Some collaborative art pieces Heartspring students have worked on are faux blown glass pieces and a painting "quilt."
"Collaborative art gives students the opportunity to see themselves as part of the whole and allows them to be able to come and see how their art works together with other people's," Julie said. "It gives you the opportunity to be a part of something much bigger than a person might be able to do by themselves."
Heartspring students have gotten to experience art in many ways from jewelry to string art paintings to dyeing quilt squares. Check out some of their pieces at the Envision Arts Senses Community Arts Exhibitions from June 3 to August 26 at their main exhibition hall.
View Heartspring's art Amazon wishlist here.