2 MIN READ
Let's Talk About Kayser
How one student's communication has led to many smiles and greater independence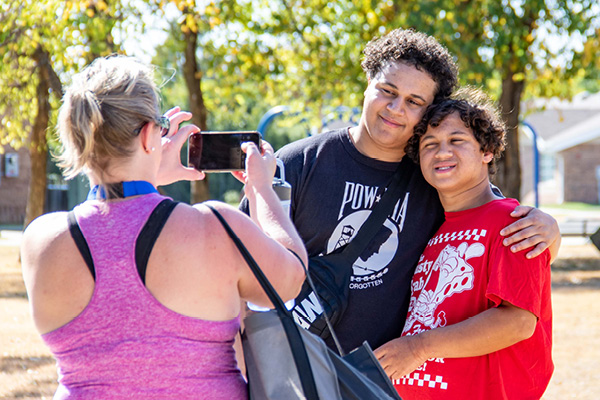 Social interaction is an important part of everyone's lives. Whether your idea of socialization is back-to-back activities with friends, chatting on Reddit, or just hanging out with your cat, most people need some sort of social outlet. At Heartspring, Kayser was able to make huge gains in fulfilling that social meter safely and at his own pace.
"The social interaction has been amazing," Kayser's mother, Kim, said. "I think the social piece is so good for him. It's so good for his brain. It's so good for his mental health. Maybe we didn't realize how important that social aspect was."
In Kayser's individualized goals at Heartspring, there has been a huge focus on language including social exchanges in which he greets a staff, answers a question, asks them a question back, and says goodbye. The focus has paid off. He's begun using these skills outside of when he is practicing his goals. It's something his mother has noticed even from afar.
"When we talk and we have our Zoom calls, it has let him communicate, answer my questions, rather than being activated right away," Kim said. "We've got a rhythm down... seeing him in his classroom and seeing how he is able to work with the staff and be in the classroom with other kids has just been amazing."
The consistency of his staff and coverage of care has allowed him to continue to build on these skills. In his previous settings, there were rotating staff, so he wasn't seeing the same people or even settings every day.
"In order to have more independence, they've encouraged him to use his language," Kim said. "And use the ability to communicate in order to get that independence in order to get the things that he wants rather than acting out. That's really huge."
And while this is a great thing for Kayser, everyone at Heartspring gets the opportunity to benefit from his positive, social energy.
"He has quickly become the face of Heartspring," Dr. Holli Steiner, Speech-Language Pathologist said. "It's not uncommon to be walking by the playground or on your way to your car in the parking lot and be greeted by him... One of the things that he and I have started doing is that I ask him, 'Kayser, who's my friend?' and he responds with, 'I am! Aww.' It's the greatest feeling. If I'm ever having a bad day, I go see him because he always cheers me up!"