2 MIN READ
Stone's Story: On to the Next Big Thing
Stone may be leaving Heartspring, but the lessons he learned here will help guide him into his future.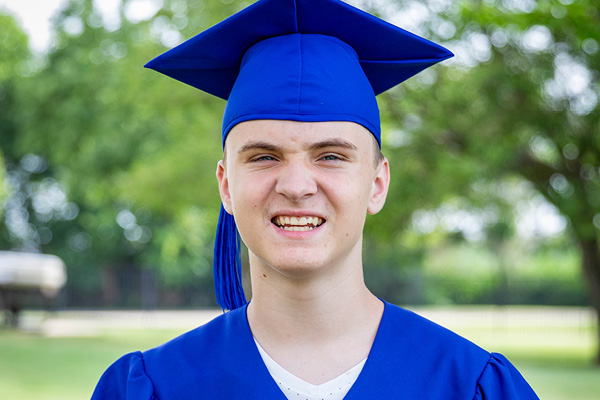 When Stone first enrolled at Heartspring in 2020, he was experiencing disruptive behaviors that were interfering with his education and home life. He was aggressive, unwilling to communicate, and he tended to run away.
After a couple of years at Heartspring, all of those things have changed. In fact, Stone has made so much progress, he is transitioning from Heartspring to a public school district and back home.
"Having Stone move back home with us has been the hope since Day 1 at Heartspring," said Stone's mom, Sage.
A big reason Stone and his family are able to turn their hopes into a reality is the staff at Heartspring. They worked with Stone to meet his goals and gave him the support he needs to grow.
"The staff Stone has worked with are true angels," Sage said. "They have cared for Stone as if he's one of their own children. We have been very impressed with several of the people that have worked with him."
The staff at Heartspring have worked on goals with him that have made it possible.
"We would be lying if we said we didn't have any anxiety about making this transition back home," Sage said. "But the staff have made us confident we are making this move at the right time for Stone and our family."
The changes in Stone in the classroom and in his home life while at Heartspring have been significant. He has shown a huge reduction in behavior and now willingly uses his communication device to participate in conversations and express himself. Even though Stone likes to spend a lot of time outdoors, there is no longer a concern about him running away like before. Now, when it is time to come inside, he does so without any issues.
"We have three sons, and Stone has gone from the child who never listened to his father and me to the one who now listens to us the most," Sage said. "We now rarely have to tell him something twice, the change has been beyond amazing....Our family dynamic is completely different now. We no longer have to be constantly on edge waiting for Stone's next outburst or blow-up. We are able to be a lot more relaxed and enjoy each other much more than before."
While Stone's accomplishments during his time at Heartspring have been monumental, he is just getting started. Up next for Stone is freshman year of high school. In addition to his classroom work, his school year will include a program where he will visit a working farm once a week and get to interact with the animals as well as also getting involved with the Special Olympics.