1 MIN READ
Tameka's Journey: A Reflection on 20 Years of Building Lives
By: Heartspring Marketing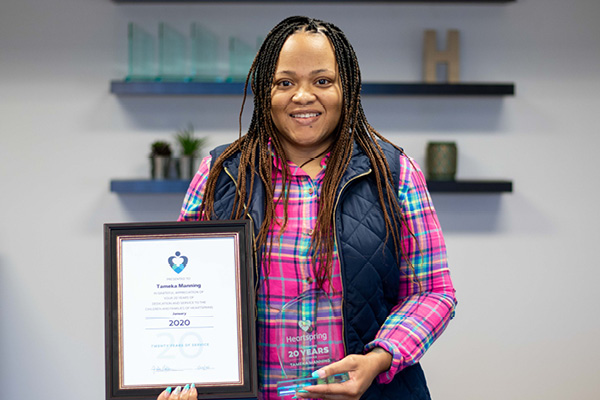 The year 2000 changed Tameka's life.
Not only did she begin a career as a paraeducator at Heartspring, but she also became a mother for the first time.
And with the same loving heart she built her family at home, she eagerly built lives at work: when she wasn't caring for her children, she was helping students find happiness, love, and independence in their own journeys.
With each new smile, accomplishment, and goal met, her passion for the Heartspring mission grew—at work, she celebrated these milestones with excitement and delight. At home, she shared the joy with her family through stories about the amazing wins and successes of her students.
These awe-inspiring stories led Deahvian, Tameka's firstborn son, to follow his mother's footsteps.
As a child, Deahvian, now also a paraeducator at Heartspring, quickly realized that his mother had a special passion for her job. And in 2019, he decided to join the Heartspring family in hopes to build a rewarding career of his own.
"She is the hardest worker I've ever met in my life," says Deahvian, as he smiles with pride. "Whatever she puts her mind to do, she does it, and she does it tenfold."
Fate led Tameka and Deahvian to share a passion and build lives together, and now, as a young professional, Deahvian entirely looks up to his mother as an inspiring mentor, coach, and role model.
Tameka's journey is one of love: a love for life, a love for family, a love for helping children—including her own—reach their highest potential in life.
We are beyond thankful to be part of her story.
Tameka, we thank you from the bottom of our hearts for the hard work, dedication, and care you have put into every second you have put into building lives at Heartspring.
Congratulations on your 20-year work anniversary!