1 MIN READ
Coffee, Connections and Confidence: Vincent's Story
Building social skills, career skills and friendships in CARE Clubs.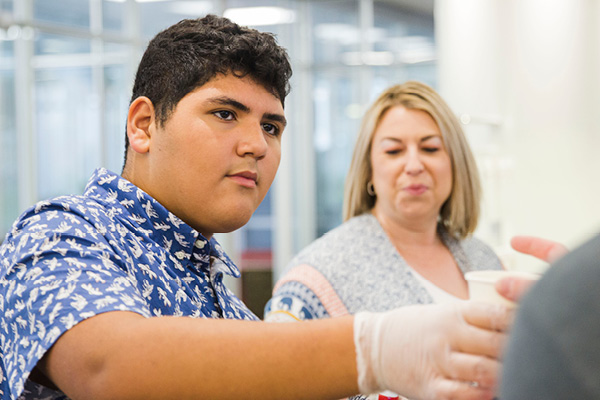 High school. It's a big transition. It can be hard for anyone to start going to school in a new building with new classmates and new teachers. Despite this challenge, sitting across Vincent at a local Starbucks while we interviewed him and his mom it would be hard to imagine that he would have been nervous.
Vincent has an extremely warm personality. Chatting with him and his mom, Allison, at Starbucks, he had a big smile on his face the entire time. It was a contagious smile that spread to the whole table. However, big changes can be hard.
"We were both really nervous before high school, but I think some of the skills he's learned in Teen Hangout and CARE Clubs... being around people he doesn't know and just getting to know them really helped him in high school," Allison said. "He's done really well."
Vincent has been participating in these social clubs for teens and children impacted by autism for the past few years. Over the years he's built up his confidence, but the best part for Vincent....
"I get to make new friends," Vincent said.
This carried over to his educational setting as well. Vincent has already made friends in his new school. In addition to expanding his social life, he's also gotten a chance to explore his career goals. He's interested in a culinary career. He loves his cooking class at high school and is a self-proclaimed foodie.
A culinary career can be difficult. You need cooking skills, people skills, and front-of-the-house skills. He has honed his social skills in clubs and Teen Hangout but with Caffeine Connection, he was able to apply what he's learned to a real-world setting and gain some more career-related experience.
Caffeine Connection is a vocational training opportunity available to teens in the CARE program. Over the past year, Vincent's been able to work the different positions of the mini coffee bar—making the drinks, stocking the bar, and taking orders and money from people. They've traveled to different businesses and schools learning and growing at each stop.
"I like to talk," Vincent said. "I love talking."
"You get to talk to every single person," Allison said.
Caffeine Connection will start up again this summer. We can't wait to see what new skills Vincent picks up.