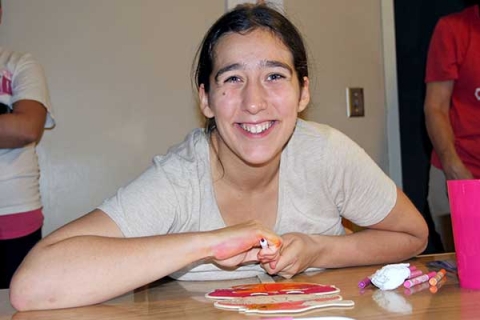 Heartspring Student Bianca sat at a table surrounded by her friends, all celebrating her birthday at a local ceramic painting studio. She smiled and laughed as she painted her mermaid sculpture. Her face filled with excitement with every stroke of the brush. Her parents took photos to mark the occasion, and she posed for the camera. Bianca just seemed to radiate happiness.
"She always has a smile on her face," lead classroom paraeducator, Keshia, said. "She's the classroom light now that she's gotten over some of her behaviors."
Rewind just a year back and the picture would have been very different. For much of her life, Bianca was a happy, social child who enjoyed going out and exploring the world and meeting new people. Her bubbly, almost theatrical personality made her the center of every party and social gathering. Bianca is impacted by autism, but her parents worked hard to give her as many experiences and teach her as many lessons as possible. When she hit her mid-teens her behaviors really began to grow. They got so bad that she wasn't able to go to school. She was on medication, had health issues and couldn't do her favorite things. The light in her dimmed.
"There wasn't any way to make her function anymore," Elisabetta, Bianca's mom said. "Her life was basically slipping away from us, because we'd have to come home most of the time because of her yelling, pushing or getting away from us."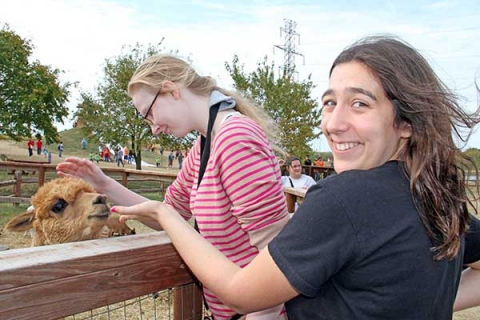 It was hard for Bianca's parents to watch their daughter, once so happy and full of life, become so riddled with anxiety and aggressive behaviors. They tried everything they could think of, but eventually had to look to Heartspring for help. From the first day, her parents knew Heartspring was different than the other places they'd been to or seen before. Bianca refused to get out of the car upon arriving, and some staff came to help. Instead of forcing her out, they calmly talked to her. She realized her behavior wasn't going to get her what she wanted, and she ran into the school. With Heartspring's trained staff and consistent schedule that only a residential program can offer, Bianca began to get her anxiety and behaviors under control. Her parent's were in touch with her behavior specialist throughout the process and were able to ask questions and know what was going on with their daughter.
Bianca's parents say that she has been able to work through her anxiety and behaviors at Heartspring and learn new ways to express herself. "The staff give her dignity and respect and allow her space and time to funnel her frustrations and get back on track, without being restrained or medicated," Bianca's dad, Robert, said.
Bianca still has some things to work on, but the light inside of her is growing and her parents are getting to see the happy, bubbly young woman they knew before.