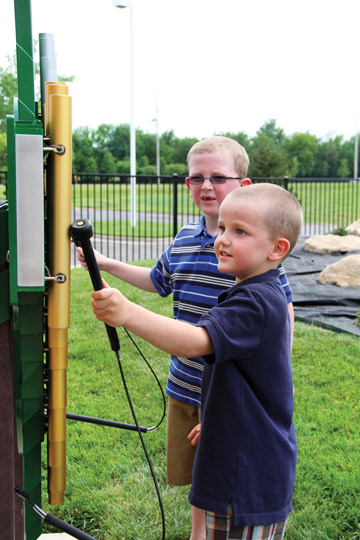 While playing on the Heartspring Treehouse, it's hard to keep up with 6-year-old Curran and 5-year-old Kelyn. Their glittering personalities and boundless energy will keep you smiling and exhaust you all at the same time. As they both expertly climb the treehouse's rope ladder and effortlessly slide down the fire pole, it's nearly impossible to think that any obstacles have slowed them down before. Yet, both boys and their family have indeed overcome many hurdles throughout their young lives.
Curran and Kelyn were perfectly healthy babies at birth. For Curran, the red flags came early when he began struggling with chewing; when he was 15 months old, he began choking on solid foods. And at the time, he could only say two words—"mama" and "moo"—another red flag. Things became progressively worse as he started having severe temper tantrums.
"We had no idea what to do or what he was trying to show us," Becca, the boys' mother, said.
Becca soon realized that his tantrums were directly related to his inability to communicate his needs. Curran began occupational therapy at Rainbows United and eventually, was referred to Heartspring when he turned three years old. Within a month of being at Heartspring, Curran was diagnosed with moderate-to-severe apraxia, a motor speech disorder characterized by difficulties with accurately and consistently producing speech.
"It was so hard going out in public and having people look at your child as he's throwing a fit," Becca said. "They have no idea he can't tell us what he wants!"
With further evaluation for fine motor skills and sensory issues, Curran was also diagnosed with hypotonia, or low muscle tone, and sensory processing deficits.
At 18 months, Kelyn also started having trouble chewing foods and immediately began treatment at Heartspring. He was also diagnosed with moderate apraxia, and fortunately, did not have any sensory or hypotonia issues. Through it all, the family remains optimistic.
"Over the years, I've come to realize things could always be worse," Becca said. "With 'normal' developing children, you only get to celebrate the typical milestones. With special needs children, you get to celebrate something almost on a daily basis!"
Those little victories after years of hard work turn out to be the most priceless moments. The things many people often take for granted quickly become the proudest moments for many Heartspring families.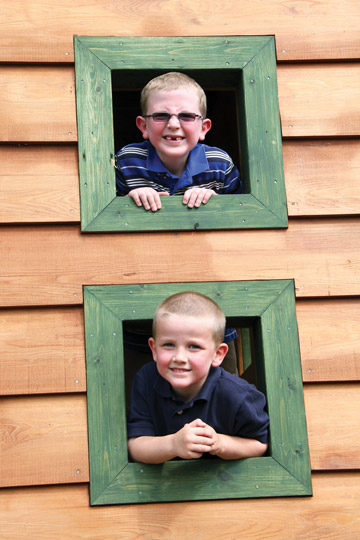 "I will never forget the first time Curran said his name. It was about a month before he turned five years old, and I was observing a therapy session," Becca said. Speech Language Pathologist Molly Murphy worked with Curran to help him pronounce the 'ca' sound in his name. "He just said it...and his face lit up!"
Today, both Curran and Kelyn are excelling in school. Their parents' concerns faded as the boys climbed to the top academically in their classes.
"I used to be so scared of my children's futures. Those things we often take for granted—the ability to communicate, learn in school, make friends or live a 'normal' child's life...would my boys have that?" Becca said. "Heartspring has totally changed my thoughts on that. Curran and Kelyn have come a long way, it's unbelievable!"