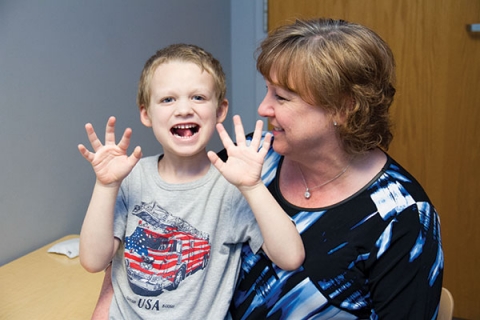 At Heartspring's pediatric outpatient services, children receive physical therapy, occupational therapy, speech therapy, psychological services and autism services in one location. Julian is the perfect example of why having comprehensive therapies in one location is essential. He is thriving at Heartspring.
"With all these professionals under one roof, we are able to provide holistic services to address the child's needs," Mel, Heartspring occupational therapist said. "It's invaluable."
Improving communication has opened new doors for Julian. At the age of three, he had about 15 words. With limited communication, Julian's behaviors began to increase, because he couldn't voice his wants or needs. He did what he could to be heard.
"There was a lot of screaming and a lot of yelling," Kristen said. "He couldn't do everything that he wanted to do. He didn't understand why and wasn't able to communicate it."
Like many children, Julian had to wait to start speech therapy. Kristen knew how important early intervention was for a child's development so it was hard for her to wait the six months.
"Waiting is torture," Kristen said. "As a parent you want to do everything you can to help your kid."
When Julian finally started speech therapy it made a huge difference in both his life and his family's life. It helped Julian learn how to communicate. Now, he has a voice, and his personality shines. He is able to share his great sense of humor with his family and those around him.
"He's done so well," Kristen said. "He has started our conversations. That's mind-boggling. To be able to ask him questions, or even ask me questions is amazing. To be four years old and finally have conversations...it's amazing."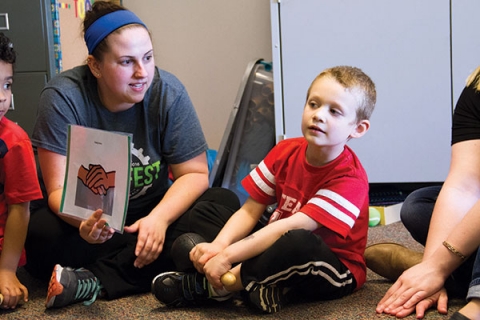 This is only one area of improvement. Julian was fitted for orthotics to improve his mobility. He gained more independence by working on important life skills in occupational therapy. He writes his name, sits at the table, dresses and undresses and drinks out of cups.
One of Julian's next big steps is going to kindergarten. Through Autism Services, he participates in CARE Clubs and Camp SSTAR building the necessary skills to help him be successful when he starts school in the fall.
"I don't want to think about where he would be without Heartspring," Kristen said. "Heartspring's saved all of us. It's given us quality of life."
Heartspring isn't just speech therapy or occupational therapy. We aren't just building muscles and communication. We are giving children like Julian a voice, mobility and a chance to thrive at school. It's an opportunity to grow and be more independent. It's hope for a family.
By combining Pediatric Services and Autism Services we are able to make therapies more accessible and convenient for children and their families. With services in one location, professionals and therapists collaborate on what is best for each child. And with the Expanding Possibilities campus expansion, we can serve more children. We can give more voices, more independence and more opportunities.