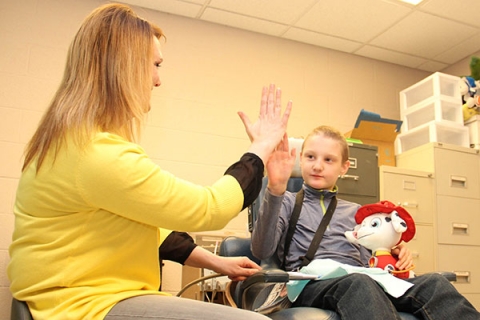 It's never easy for parents to make the heart-wrenching decision to seek out residential placement for their child. It's a very emotional decision, but Heartspring is ready to help families trade that anger, fear and uncertainty for hope and opportunity in their child's life. That's the decision Kelly had to make when her eight-year-old son, Ty, was having issues with behaviors and communication. She wanted to give her son his best chance for a successful life and that meant sending him to a place that could help him grow.
"He was very young," Kelly said. "It was heartbreaking for the family, but if he wasn't going to be with us, he was going to be at the best place we could find."
That place is Heartspring.
When he first got here, Ty had a vocabulary of less than eight words. He had trouble expressing himself, and that led to negative behaviors. It took time for Ty to adapt to his new surroundings, but when he did, he started to excel. His team worked at finding lessons that were accessible and interesting to him. Speech Pathologist Beth used books to keep him interested. He would ask questions about what they read and broaden his vocabulary. Teacher Carmen researched topics he was interested in online and improved his communication skills by talking about those things with him.
The hard work paid off. In less than two years, Ty has a vocabulary of more than 1,500 words. He has no problem talking about what he wants or how he is feeling. Now that he has the right communication tools, his personality is able to shine through.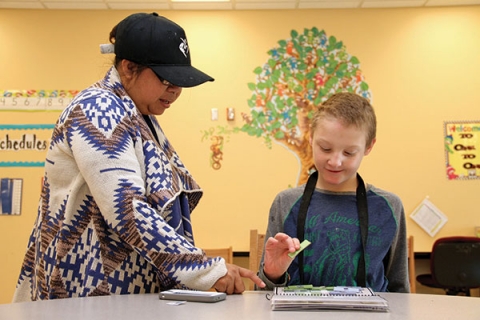 "It's like a faucet turned on, and it's incredible to talk and listen to him," Kelly said.
Kelly can call her son and he can tell her what happened that day. When she comes for visits, she can sit on the couch and have a conversation with him. His behaviors have improved and his future looks bright. The hard decision to send Ty to Heartspring was the best one for his family.
"It makes you feel like you made the right choice," Kelly said. "He wouldn't have made this type of progress without going to Heartspring."