1 MIN READ
Donor Feature: Amy Ponce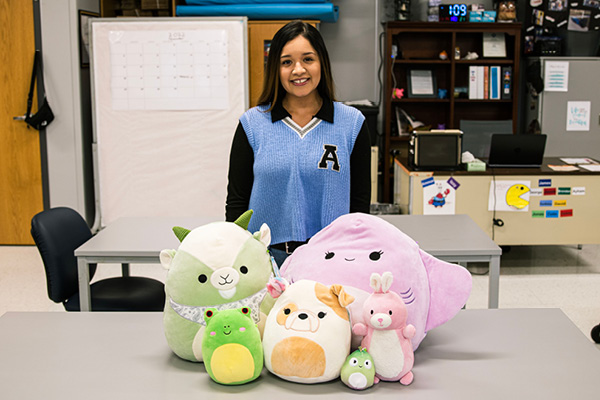 One of the neatest things about Heartspring supporters is that there are so many different people that support in so many different ways. We have people of all ages, locations, job titles, you name it, supporting us in the way that best meets their abilities and talents.
One of our younger supporters is Newman University Senior Amy Ponce. Amy decided to support Heartspring for a scholarship capstone project. She was familiar with the organization and its mission because her aunt, Beatriz, works here as an administrative assistant. However, it wasn't until she started her project that she really got to know more about Heartspring.
She decided to put together a toy drive for the children of Heartspring. She found a list of donations on the Heartspring website and went to work. She reached out to friends and family and her classmates. She used a Google sheet for people to sign up and she was able to get the toys in about three weeks. She would also follow up with them so the donations didn't slip their minds. All in all, Amy was able to get 72 different items for the Heartspring children.
"It was pretty successful," Ponce said. "I'd say about 60-70% of the people donated the stuff. I put in some of my own too. The biggest thing I was really excited about were the Squishmallows because I heard those were really popular. "
After that, she spent some time sorting everything and making different baskets with her friends. The project connected her back to elementary school when she would help the special education students at her school.
"That helped me realize that this is a bigger impact," Amy said. "It should be implemented everywhere, some sort of help."
Now that the fundraiser is done, Amy will have to reach a 20-page essay that includes a step-by-step summary of how she did her project.
When Amy graduates, she will have a bachelor's in business, a minor in communication, a minor in criminal justice and a concentration leadership certificate. She wants to work for a small business or possibly in HR. She also has an interest in law.