1 MIN READ
ESA: Supporting Heartspring through the Years
Thank You, Epsilon Sigma Alpha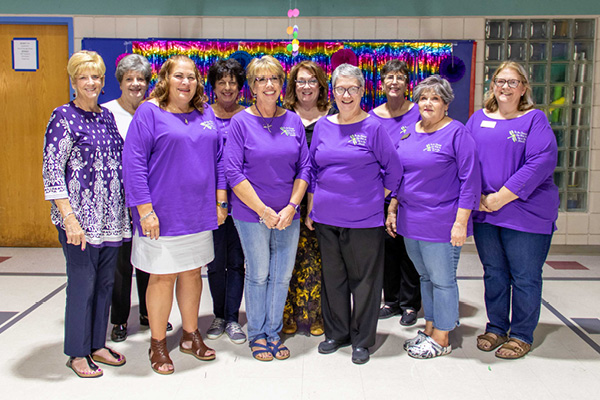 The Kansas State Council of Epsilon Sigma Alpha (ESA) has supported Heartspring as their State Philanthropic Project since the late 1940's raising more than $650,000 for the children and families of Heartspring.
"The women of Epsilon Sigma Alpha have donated countless hours of service, hundreds of thousands of charitable dollars, and gifts in kind, all to ensure the children of Heartspring receive top-of-the-line education, therapy, and the opportunity to be a kid," Director of Philanthropy Mandy Fleming said. "Their love and support for the children at Heartspring make them partners in every way."
The organization has been supporting Heartspring for about 80 years, but it has been around since 1929 when a group of individuals came together in Jacksonville, Texas, to learn, grow and prepare themselves for an ever-changing world. During World War II, they expanded to include philanthropic and public service projects participating in the United Service Organizations and The American Red Cross. They also were one of the first groups to support the March of Dimes. And, of course, the Kansas Chapter began its affiliation with Heartspring and have continued ever since.
"Many of our members shared with me that our continued support is due to seeing what a difference Heartspring makes in these children's lives," Pam Mitchell, ESA KSC 2nd Vice President, said. "It takes very special people to do their work and it takes money to provide them with the teaching tools and equipment they need to make a difference."
In addition to the funds raised, the women of ESA have participated in a number of different projects. Many participate in the Adopt A House/ Adopt A Classroom project where chapters send items monthly to the students of Heartspring. They also help put together some of our students' favorite activities---the Family Weekend and Day of Love Dance.
"It takes all of us in ESA to bring together these events," Mitchell said. "Participating with the children is a highlight for all of us."
In addition to changing the lives of the children Heartspring serves, ESA has also changed the campus that they live and grow on. They were integral in raising funds for the tree house, an outdoor learning space, that is still used today.
Heartspring cannot thank this group enough for all they do.