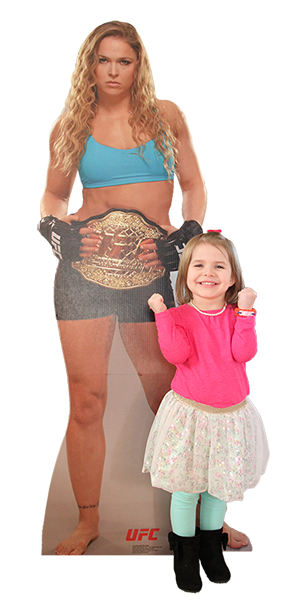 When Abigail strikes her power pose next to her life-size cutout of MMA-Fighter Ronda Rousey, she looks like a girl on a mission. With a big, determined smile and fists clenched to show off her muscles, you know you don't want to mess with Abigail. That's something she and Ronda have in common. Abigail isn't your typical little girl. She dresses up as superheroes for Halloween and loves Darth Vader and Ronda Rousey.
Her grandfather mistakenly sent the Ronda Rousey cutout to his granddaughter, thinking it was a poster to hang on her wall. But, when Ronda arrived at Abigail's house, they were inseparable. She'd bring Ronda with her around the house–to breakfast, to play, everywhere! Abigail loves Ronda not just because she is a famous athlete but also because she and the MMA star have something else in common. They both have had to work through symptoms of apraxia.
According to the American-Speech-Language-Hearing Association, childhood apraxia of speech is a motor speech disorder. Children may have problems saying sounds, syllables and words because the brain has problems planning the movement of the oral structures needed for speech production. Abigail knows what she wants to say, she just can't get her mouth to say it.
"It was heartbreaking when I felt like my child was trapped inside of her own head," Kayleen, Abigail's mother, said.
By the time she was two, the family realized that their little superhero needed speech therapy. When Abigail started at Heartspring, she didn't have any consistent words or sounds. Even Ronda Rousey has a coach to teach her the right moves and get her through the toughest fights, and at Heartspring, Abigail found a coach of her own:
Speech-Language Pathologist Cori Durham. When they began therapy, Abigail was making some gains, but the pair kept hitting walls. But, Cori wouldn't give up. She determined that Abigail had severe childhood apraxia. She then discovered a special training being held in Oklahoma known as PROMPT (Prompts for Restructuring Oral Muscular Phonetic Targets) that would hopefully give Abigail the tools she needed to find her voice.
"I was at a place with Abigail that I was questioning what route I needed to take with her," Cori said. "I'd never seen a child so receptively intact, but struggle so much expressively. I decided I needed to go. It has been life-changing for her."
Almost immediately, Cori was able to use PROMPT therapy to help Abigail. Using this technique, Cori can physically move Abigail's lips, cheeks, and tongue to teach her muscles how to move and produce sounds and words. Abigail began seeing success. Instead of struggling to say sounds and words, she is now stringing phrases and short sentences together.
"If it wasn't for Cori, I don't know where we would be," Kayleen said. "We are so blessed that we found her. We praise God every day for her because with the old, traditional way of therapy, there's no way Abigail would be where she's at now."
Every week, Abigail gets three hours of speech therapy. Just imagine spending an hour pushing yourself to do something you can't do and struggling to imitate words and sounds that seem impossible to produce. But, like her hero, Abigail doesn't give up.
"She really perseveres," Kayleen said. "She never gets frustrated. She never gets sad. She's so smart and she doesn't give up. She's really strong in that way."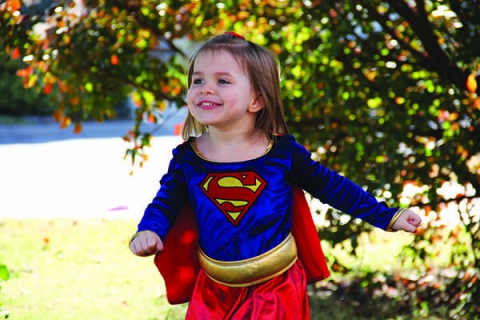 Thanks to intensive speech therapy, Abigail is now able to communicate some of the thoughts in her head. She communicates verbally, with sign language and with the use of a voice output communication device.
"I wish I was good enough with words that I could express the first time I heard her say 'mama' and 'dada' in her sweet little voice," Kayleen said. "She lit up when she could finally express those things to us. We were all bawling, it was a significant milestone and something we will never forget."
Abigail, like her hero Ronda, has proven she can power through tough times to reach her goals. The young girl still has a ways to go, but through her determination, the dedication of Cori and the support she has from her family, she continues making gains and exceeding expectations because that's what champions do.