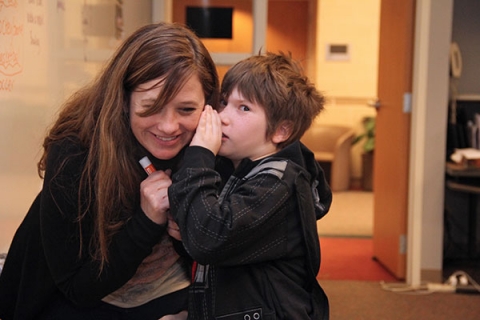 Christine sat in the audience watching her son, Tanner, participate in the spring program, "The Principal and the Pea." Not only was he on stage in front of his peers and their families but he even had a speaking part. He sang every song and performed all of the actions. Christine was so proud of him and how far he had come. Just the year before, he was in his third year of homeschool.
"The speaking part in the program was huge for us, because a doctor told us that he'd never speak more than 10 words," Christine said. "He definitely proved that one wrong."
Tanner is impacted by autism and had some trouble in a traditional school setting. Christine said he wasn't getting the assistance he needed, but she also wanted him to have the opportunity to be around other children. Tanner has a giant heart and wants to be everyone's friend. He just needed to find the right place.
Camp SSTAR came highly recommended from a family friend. So, two years ago Tanner went to his first week of camp. He worked on socializing with his peers and his vocabulary. Most importantly, Tanner found a place where he could be himself.
"I picked him up on Wednesday and he was like 'mom, can I come back next week? I actually belong. I fit in,'" Christine said.
Tanner started building up the skills and experiences he needed to return to school. Last year, Tanner went back to public school, and he is doing very well. The little boy who doctors said would never even say 10 words is making friends, participating in plays, and getting 100 percent on his spelling tests.