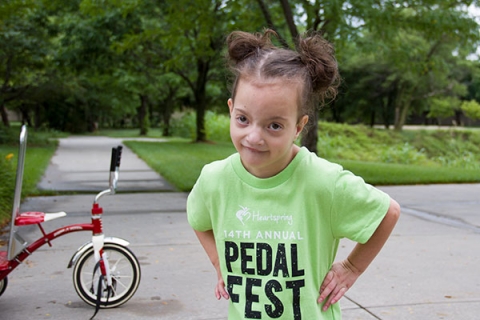 "And though she be but little, she is fierce."
William Shakespeare wrote this line to describe Hermia in Midsummer's Night Dream, but it should have been penned for Magnolia. Her small frame and sweet smile may be mistaken for timidity, but she is fierce. The six-year-old has the will and stubbornness to accomplish anything. She is the star of her own show, and nothing will outshine her. Not even a chromosomal disorder.
Hilary, Magnolia's mom, first heard Wolf-Hirschhorn syndrome when she was 24 weeks pregnant. Magnolia was diagnosed in utero with the rare chromosomal disorder that delays growth and development.
"It was overwhelming," Hilary said. "When you search the diagnosis you see very, very, very bad things. Seizures. No walking. No talking. Little to no personality. A third die before they are two."
It may sound impossible, but Magnolia is, after all, fierce and stubborn. If she wants to do something, Magnolia will do it, and no disorder will stop her.
Magnolia started coming to Heartspring when she was six months old and found the support she needed in our physical therapy, speech-language pathology, and occupational therapy programs. For six years, she's grown up in these walls. At Heartspring, that fierceness found direction and a purpose. She started doing things her mom was told she never would.
"We were told she would never walk," Hilary said. "I never imagined there was even a chance. Cheryl, our Heartspring physical therapist, was the first one who said that if we build strength maybe she can. She had her in the harness on the treadmill at a very early age."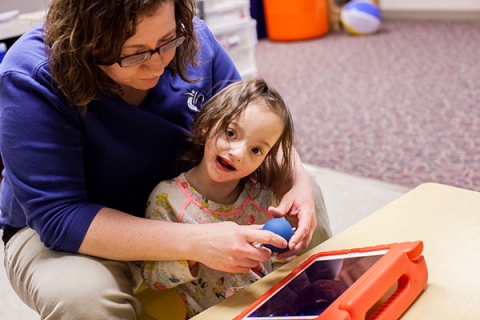 It wasn't easy. It took a long time and a lot of work, but Magnolia started walking independently when she was almost five, and she's not slowing down. She's now communicating via sign language or an iPad, going up the stairs and riding a bike. Heartspring's therapists urge her on, and when Magnolia's ready she takes each next step.
"The services that the kids get here are amazing," Hilary said. "I can say absolutely without a doubt she would not be doing half of what she's doing now without Heartspring. There's no doubt in my mind. We wouldn't have been able to push her."
Magnolia is one of many kids at Heartspring who have defied doctor's expectations and refused to be defined by a diagnosis. With strong teams in place, kids are doing the impossible. They walk when they were told they would never walk. They communicated when they were told they'd never talk.
Magnolia many be little, but oh, she is fierce, and nothing will stop her.