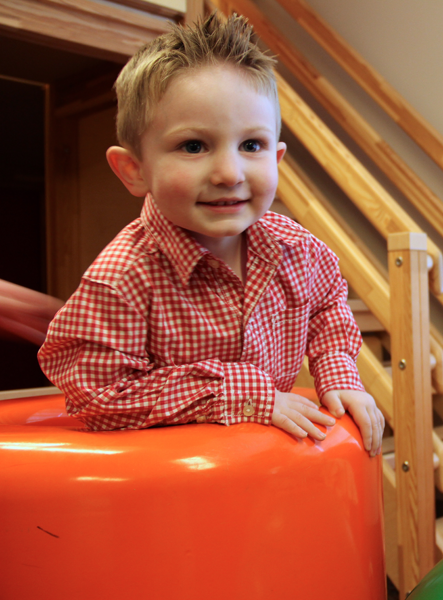 Every Monday morning, Jennifer gets her boys ready for school and therapy. As 4-year-old Briggan hops onto the school bus, Jennifer and 2-year-old Cort head to Heartspring from their small town of Protection, Kansas - a two and a half hour drive each way. They head home after Cort's therapies that same afternoon.
On Thursday, Jennifer packs up Briggan for his therapies, leaving Cort at home to attend preschool. Briggan and Jennifer stay in Wichita that night in a hotel, and on Friday, Briggan returns to Heartspring for more therapies. On Friday morning, Jennifer's husband, Doug, drives Cort to Heartspring to meet the rest of the family. He has therapy on Friday, as well. And after a day of sessions for both boys, the family heads back to Protection, Kansas ready to repeat their routine again on Monday.
For Jennifer, this weekly routine is a way of life—and even more so, a necessity and a blessing. This routine is the reason her sons are progressing in ways she never thought possible.
Briggan and Cort were both diagnosed with autism at early ages. Signs came quickly for Briggan when he wasn't meeting any typical milestones. Jennifer sought the help of a therapist at another facility. The therapist referred her to Dr. Kerschen, a developmental pediatrician who spends part of her time at Heartspring.
"She told me, 'there is no better place in the country'," Jennifer said. Briggan started speech therapy shortly after, and following an evaluation, it was determined that he would also need physical and occupational therapies, as well as Applied Behavior Analysis (ABA) therapy for his autism diagnosis.
Cort, on the other hand, was meeting his milestones until he was about 18 months old. After a speech evaluation, Jennifer decided to also bring Cort to Heartspring.
"We were already taking Briggan to Heartspring and witnessing AMAZING results with him," Jennifer said. Not too long after Cort's evaluation, Jennifer and Douglearned that Cort, too, had an autism diagnosis.
For their family of four, having two children with autism was a devastating blow. But Heartspring brought them hope and a promising perspective.
"I have a bright outlook for my boys, I think they can do anything anyone else can do. They may have to work harder, or find a different way to get there, but they can do anything. I have to admit, I didn't think that when I first received Briggan and Cort's diagnoses. The dreams I had for them were gone. But not after coming to Heartspring—not after ABA therapy," Jennifer said.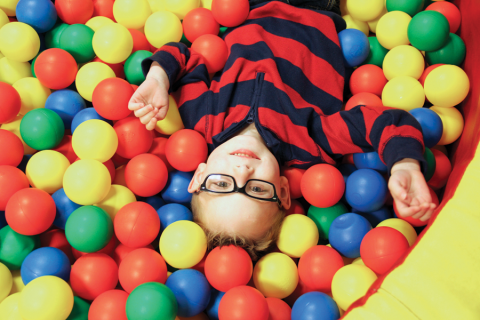 Since beginning therapy at Heartspring, both Briggan and Cort have shown incredible progress.
"Both of my boys had huge deficits in communication skills," Jennifer said, "so we have seen the greatest improvements there. All Briggan could really say was 'mama'; he used it for everything, so you can imagine his frustration when he tried to communicate with us."
Briggan's speech therapist, Molly Murphy, began teaching him more sign language to help with the communication issues, and also introduced the Picture Exchange Communication System (PECS), something Briggan picked up immediately. Briggan had also been diagnosed with speech apraxia, making it difficult for his family to understand him. Through hard work and consistent therapy, Briggan has improved significantly.
Cort, on the other hand, has really come out of his shell. He is more talkative and outgoing—waving and saying "bye-bye,"something he couldn't do a year ago. But perhaps the most touching moment for Jennifer was with a recent conversation with Cort. "The other day, I told him I loved him, and he told me, 'I love you, too, Mom.' My heart melted, and I cried, of course."