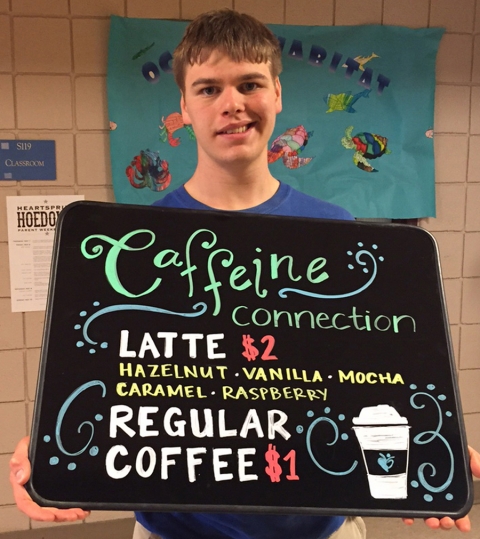 Dylan started his job at Caffeine Connection, Heartspring's student-run coffee cart, in January 2015 as a delivery person. One of his main behaviors is doing inappropriate actions to gain attention, such as belching and lifting his shirt. The Caffeine Connection team decided that we would begin his role on a trial basis, allowing him to participate as long as he remained appropriate on the job. Needless to say, the staff has been incredibly impressed by his performance.
He was initially given the job of delivery person because he enjoys socializing with others. He is always energetic and ready to participate each week and seems to value the job. These factors helped make Dylan our first choice for a promotion when a position at the main coffee station became available. In his new role making coffee for our customers, Dylan again amazed us with his work ethic, energy and excitement.
Dylan was recently promoted to Caffeine Connection Manager. The Caffeine Connection staff made this decision because Dylan takes his job seriously - he listens, follows directions, and even takes the time to check on his peers to ensure that they are performing their jobs at the highest quality. It's not unusual for him to ask if you will "be right back" when you step away, or tell staff and students when they need to get something done (in a pragmatic and appropriate manner).
Caffeine Connection is open each Wednesday morning, however, Dylan will often begin his preparations by discussing Caffeine Connection on Mondays with staff. He also boasts about the fact that he no longer requires a Heartspring staff member to accompany him to coffee cart. When we promoted him to manager, we made the decision that Dylan no longer needed his classroom staff to assist him, thanks to his excellent performance. His enthusiasm and positive attitude continues to inspire the rest of the Caffeine Connection crew and we are so proud of how far he has come.